Sapete bene che abbiamo spesso parlato dei pacchetti modificati di Clash of Clans. Li avete apprezzato davvero molto e siamo contenti della cosa. Ma c'è bisogno di aggiornarsi, e non possiamo perdere tempo (vi dobbiamo sempre proporre il meglio e prima degli altri, no? 🙂 ).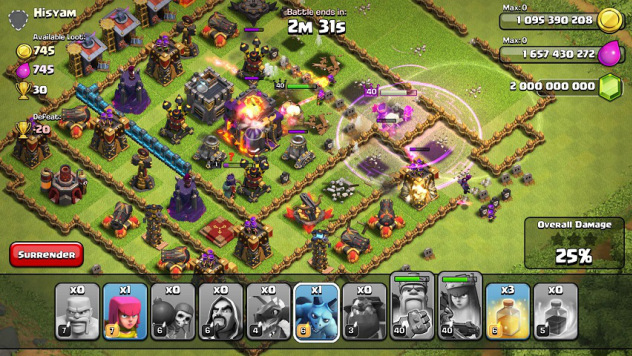 Arriva la versione Flamewall di Clash of Clans 7.65.5 mod apk, una versione sempre con Monete, elisir e gemme illimitate ma con particolarità aggiuntive: adesso i server disponibili sono tre, in maniera da ridurre il più possibile problemi del tipo "non parte" o "mi si blocca sulla barra viola di caricamento". Inoltre, include un changelog non di poco conto, eccolo quì di seguito in inglese:
15/10/2014 : Servers are given custom names(beta). Memory leaks and some bugs fixed.
21/10/2014 : Multiple servers sharing same database, so that another server can be used, when one is down, and your game progress remains saved, even after changing server.
27/10/2014 : New custom server working with latest version
29/10/2014 : Custom APK provided with Main Database working on multiple servers.
11/11/2014 : New servers
12/11/2014 : New Custom APK
17/11/2014 : Patched to work with latest version of CoC (Android and ioS)
19/11/2014 : Assigned Elastic IP to the main server
03/12/2014 : ♪Custom Barbarian Tower and SnowFall added. Its Christmas!! ♥
06/12/2014 : All Savings related issues fixed. PvE added! Chasethose Goblins!
25/12/2014 : Universal APK released!
04/01/2015 : "Dual Install"> You can install both original apk and mod apk on phone! Play them side by side!
23/01/2015 : Bringing you townhall 11!
09/03/2015 : PvP added! Enjoy Looting others
11/05/2015 : Bugs Fixed
09/06/2015 : Tri-servers Introduced
Tutti cambiamenti da provare e assolutamente eccezionali. Questa nuova versione è disponibile, leggete bene, in tre diversi pacchetti, ognuno specifico per una zona del mondo. Eccone il Download. Mi raccomando: scaricate la versione adatta al vostro continente o non funzionerà.
Download
Clash of Clans Flamewall – Download APK
Sono presenti link non funzionanti nell'articolo? Segnalalo tramite commento, grazie della collaborazione