TaiG, la famosa applicazione per modder Appleiani creata da degli sviluppatori cinesi di cui abbiamo spesse volte discusso, torna a farci (e farvi) sognare con una nuova versione del suo tool. La versione in particolare è la 2.4.1 e ve ne offriamo il Download.
Cosa c'è di nuovo?
Il changelog rilasciato dagli sviluppatori annuncia:
V2.4.1
Fix the issue of getting stuck at 60% based on users' feedback.
Optimize the process of jailbreak; improve the process's stability.
in parole povere, risolto il problema del blocco al 60% del processo e migliorata la stabilità dello stesso.
Che versione di iOS "jailbreakka"?
TaiG 2.4.1 effettua un jailbreak pulito su iOS 8.4, senza alcun tipo di problema. L'applicazione si presenta alla solita maniera, con interfaccia molto semplice e pulita simile alla seguente: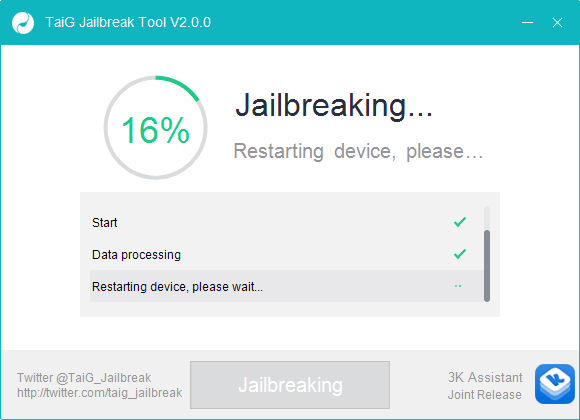 Che dispositivi supporta?
Eccoli:
iPhone

6 Plus
iPhone 6
iPhone 5s
iPhone 5c
iPhone 5
iPhone 4s

iPad

Air 2, 1
iPad 4, 3, 2
iPad mini 3, 2, 1
iPod touch 5
Che firmware supporta?
iOS 8.4
iOS 8.3
iOS 8.2
iOS 8.1.3
Dove lo scarico?
Questa è facile. Scaricate TaiG 2.4.1 da qui.
Sono presenti link non funzionanti nell'articolo? Segnalalo tramite commento, grazie della collaborazione