Salve amici, come ben sapete, abbiamo sul sito diversi APK modificati per Clash of Clans, con cui potete avere gemme e risorse illimitate, ma solo sui server non originali del produttore. Pensandoci un pò, come giocatore appassionato del gioco, ho deciso di condividervi un trucco per ottenere un bel pò di elisir nero, sacrificando un pò di elisir normale (viola). Vediamo come.
1. Requisiti
A) Clash of Clans originale scaricato dal Play Store (o da altre parti, basta che sia originale);
B) Connessione ad internet;
C) Un pò di elisir viola.
2. Prendiamoci l'elisir nero!
A) Benissimo. Ragazzi, è davvero semplice. Aprite il gioco, andate sulla fabbrica degli incantesimi e premeteci su. Una volta aperta, create tutti gli incantesimi fulmine che potete.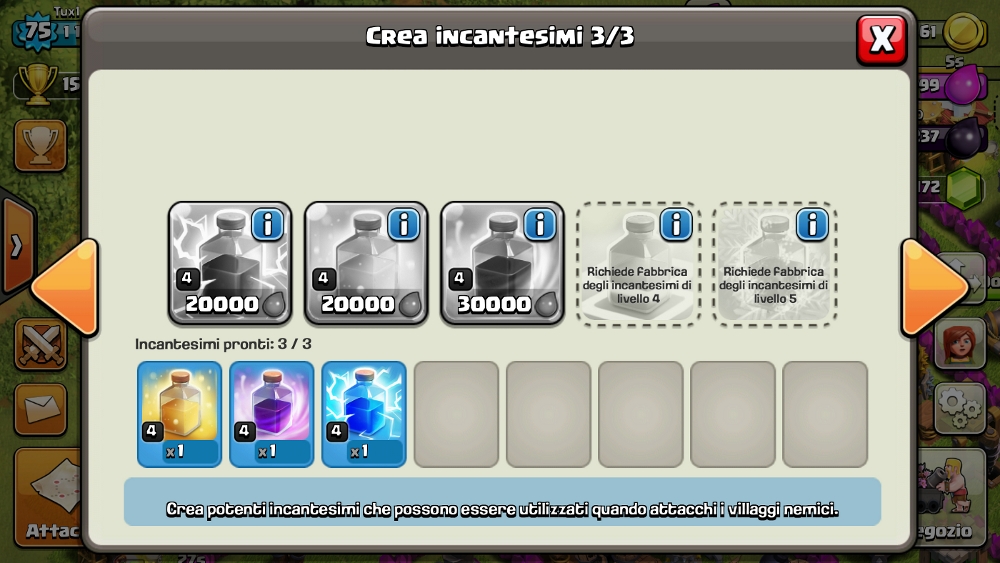 B) una volta create, andate in guerra. cercate degli attacchi e, appena trovato un deposito di elisir nero bello gonfio, scagliategli contro un bel incantesimo fulmine. Avrete una bella sorpresa 🙂
Ricordate di potenziare più che potete l'incantesimo fulmine, in maniera da fare più danni e ottenere più elisir nero possibile 😀
Sono presenti link non funzionanti nell'articolo? Segnalalo tramite commento, grazie della collaborazione