Salve amici, dopo le numerose richieste sia qui che su YouTube riguardanti la versione per iOS di Clash of Clans modificato con gemme e risorse illimitate, sono arrivato ad una conclusione: eccovi il metodo per voi, utenti della mela.
NOTA: Se dovesse capitare all'app di bloccarsi ogni tanto, o di non partire in certi orari, non incolpateci di nulla. Le motivazioni sono le stesse delle versioni per Android: server intasati oppure ogni tanto offline.
1. Requisiti
A) Prima di tutto vi serve un dispositivo con JailBreak (JB);
B) Una connessione ad Internet;
C) Clash of Clans 6.322.3/7.65.5 o altre versioni in formato IPA;
D) IP Hosts Server.
2. Procediamo!
A) Installate l'app (se proprio non va, scaricate la 6.253.4 IPA);
B) Aprite Ifile, andate su "/etc." e aprite un file chiamato Hosts;
C) Una volta aperto, inserite l'IP dell'Hosts Server a cui volete connettervi (trovate la lista sotto), ad esempio: 172.20.10.2 game.clashofclans.com    | Salvate e chiudete. Adesso aprite il vostro ClashOfClans, aspettate che scarichi il contenuto e…..fatto! Avete la versione modificata! 😉
Lista Hosts Server: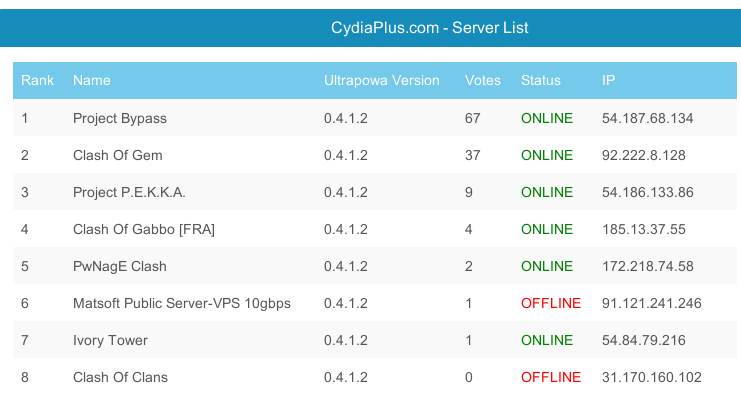 NOTA 2: Nel caso aveste problemi, ci sarebbe un secondo metodo per effettuare l'operazione…approfondiamo per chi vuole 🙂
Sono presenti link non funzionanti nell'articolo? Segnalalo tramite commento, grazie della collaborazione