Salve community, il lettore di impronte digitali è ormai presente in moltissimi smartphone e le sue funzioni stanno gradualmente ampliandosi rendendolo sempre più utile per l'utente. Uno sviluppatore ha realizzato un'interessante applicazione che sfrutta proprio il lettore di impronte per spegnere o bloccare il display del proprio smartphone. Questo permette di sbloccare e bloccare il proprio smartphone con lo stesso pulsante cosi da velocizzare queste operazioni che l'utente fa continuamente, in questa guida vi spiegherò come fare.
Procedimento:
Fingerprint to Sleep funziona senza permessi di ROOT anche se, con i permessi consentirà di disattivare la richiesta di PIN dopo lo sblocco.
Ora fare tap e inserire il segno di spunta sulle varie opzioni dell'applicazione, più in particolare "Enable fingerprint to lock" per attivare la funzionalità.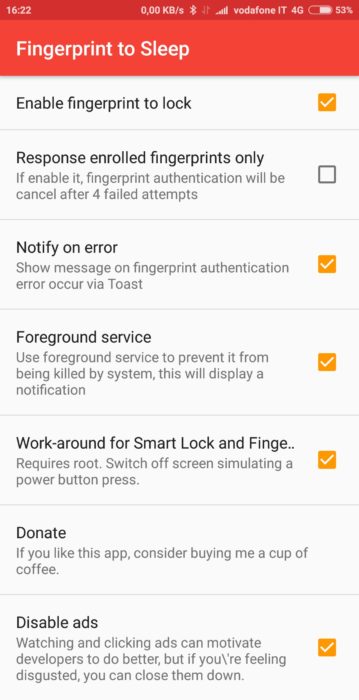 Questo è tutto! Spero di esservi stato d'aiuto, seguiteci sui social per ricevere novità o magari qualche altra guida, saluti lo staff
Sono presenti link non funzionanti nell'articolo? Segnalalo tramite commento, grazie della collaborazione