Dai tempi della prima Alpha di Kodi è passato davvero tanto tempo, e dopo il rilascio stabile dell'ottima versione 15 di questa evoluzione di XBMC, il media center per eccellenza, arriva la nuovissima versione 15.1 nome in codice "Isengard", che porta con se davvero una marea di bugfix.
Bugfix completo
Riporto l'innumerevole sfilza di bug corretti in lungo e in largo in inglese:
• Flush renderbuffers when flushing video player

• Fix broken network.bandwidth setting

• Fix stuttering in PVR windows

• Fix holding lock while querying PVR backend

• Unsigned apps are not working on jailbroken iOS 5.1 devices

• Add installed languages to the list of possible stream languages

• Ensure that file descriptor for logfile is NULL'ed

• Fixes a crash when trying do delete a file in filemanager

• Reimplement Cocoa_GetVolumeNameFromMountPoint for OSX

• Update label color for sliderex controls

• CProgressJob: fix crash in DoModal

• Fix missing return in CGUIWindowPVRBase::OnBack

• FFmpeg: Bump to 2.6.4

• Handle startup splash as regular window

• Fix linkage for VTB framework for iOS < 6 – fixes VTB on iOS

• Fix broken native keyboard on iOS 5.1.1 devices

• Fix wrong navigation in SmartPlaylistEditor.xml

• Make some virtual filesystems available when no network is available yet

• Fix formatting on mysql queries that could cause crash on update

• Only set mouse wheel control spin and slider controls when they are actually focusses

• Respect view mode changes of EPG when controlling number of EPG updates

• Handle startup splash as regular window which prevent problems if PVR or masterlock is used as startup window

• Fix watched flag not displaying if item is also resume-able

• Remove some logging on exiting that could crash on exit in some cases

• Fix overlapping subtitles in some cases
Per chi fosse interessato ad altri cambiamenti, potete trovarli quì.
Per il Download?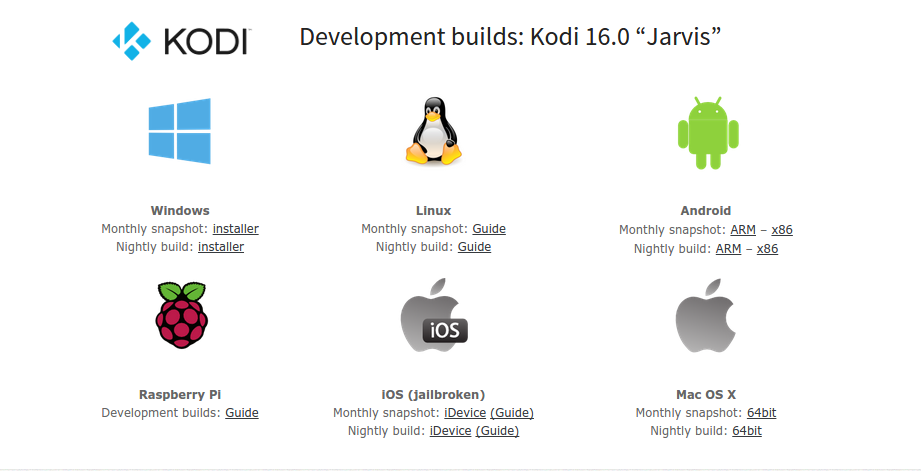 Già disponibile al download anche la versione in sviluppo Kodi 16 Jarvis, potete scaricare Kodi 15.1 Isengard a questo indirizzo.
Sono presenti link non funzionanti nell'articolo? Segnalalo tramite commento, grazie della collaborazione