Salve community, Skype, il client VoIP di Microsoft, ha subito un massiccio attacco cracker dal gruppo che appoggia il Presidente Bashar al-Assad. Il Syrian Electronic Army (SEA) ha infatti colpito prima l'account Twitter dell'azienda, poi quello Facebook ed infine anche il blog ufficiale. In tutti e tre i casi sono stati pubblicati messaggi che accusano Skype di spiare le conversazioni delle persone.
In riferimento alle chiaramente dello scandalo di Datagate ed alle intercettazioni della NSA.
Gli hacker hanno pubblicato due messaggi:
"Stop spying on people!"

"Syrian Electronic Army was here"
Sulla pagina Twitter di Skype,
"Don't use Microsoft emails(hotmail,outlook), they are monitoring your accounts and selling the data to the governments"
Riferendosi pure al altri servizi di casa Microsoft. Messaggi simili sono stati pubblicati anche sul blog ufficiale del client VoIP.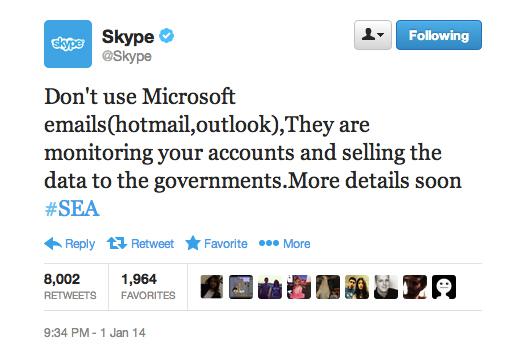 Dopo due ore il team di Skype ha riportato tutto alla normalità pubblicando:
"You may have noticed our social media properties were targeted today. No user info was compromised. We're sorry for the inconvenience"
Questo è un evento significativo che ci mostra l'inaffidabilità di Microsoft verso i propri clienti e nessun rispetto della nostra privacy!
Dimenticavo sono state rubate pure le nostre password, quindi cambiatele, o abbandonate questi servizi!
Noi consigliamo di cambiare servizi, ci sono molte alternative.
Sono presenti link non funzionanti nell'articolo? Segnalalo tramite commento, grazie della collaborazione