Salve community, trasferire foto e video catturati con la fotocamera compatta o reflex al PC è in genere un'operazione comune, è normalmente viene fatta tramite il classico cavo USB dedicato o tramite la memoria esterna. Basta infatti rimuovere la scheda di memoria dalla fotocamera, inserirla in uno slot per la lettura e dopo aver selezionato le foto che si desiderano bisogna copiarle o spostarle sulla memoria del nostro PC. Se la nostra fotocamera è dotata di interfaccia Wi-Fi tutto diventa più semplice e veloce, infatti grazie al software Airnef è possibile scaricare in tempo reale foto e video, proprio appena sono state scattate. Si tratta di una funzionalità, decisamente utile per quei professionisti. Il software Airnef è compatibile con tutte le fotocamere Nikon, Sony e Canon equipaggiate con interfaccia Wi-Fi. Nel caso di Nikon, ad esempio, il software è stato testato anche con gli adattatori WU-1a eWU-1b ed altri adattatori esterni.
Per prima cosa bisogna scaricare ed installare il software sul PC da QUI;
Connettere la nostra videocamera/fotocamera tramite Wi-Fi integrato o con adattatore ad una rete;
Avviare Airnef e cliccare su "Select in Camera" ora inserire l'indirizzo IP (locale) della videocamera/fotocamera. È necessario che la fotocamera abbia l'indirizzo IP "192.168.1.1", questo indirizzo è assegnato al router della nostra rete domestica come primo dispositivo connesso. Se non si riessere ad ottenere l'indirizzo esatto, basta disconnettere momentaneamente tutti i dispositivi connessi alla rete LAN, giusto il tempo di far ottenere l'indirizzo alla camera.
Ora dopo aver configurato la cartella di destinazione, non resta che cliccare su "Start download";
Se tutto è configurato correttamente il software Airnef ci mostrerà una finestra con lo stato della connessione e il trasferimento dei file.
Ecco tutte le funzionalità di Airnef:
One-button click to download all new images and video from the camera, selected on either the camera or computer by criteria;
Fast downloads – Airnef uses optimized Media Transfer Protocol (MTP) parameters for sustained throughput around 2.5 MB/s;
Realtime download mode – images are transferred to your computer as you shoot them. For cameras without realtime WiFi shooting support an optional staged-realtime process can be used as well;
Extensive criteria selection makes it easy to quickly choose which images to download, including by file type (NEF, JPG, MOV, etc…), starting and/or ending capture date, specific camera folders, and media card slot – in any combination. And Airnef will automatically skip over files you've already downloaded!;
Renaming engine allows you to customize the names of directories and files for images you download;
Download exec feature lets you launch your favorite image viewing or editing application for each file downloaded;
Advanced local caching of MTP metadata allows for very fast click-to-download start times;
Lets you decide the order that files are downloaded, either oldest first or newest first. That way you can start working on the files you want right away instead of waiting for all the files to be downloaded;
Fault-tolerant operation – Airnef will continuously retry any failed communication/transfer, resuming the download exactly where it left off, even in the middle of a file. This is important when downloading very large video files on marginal wireless connections.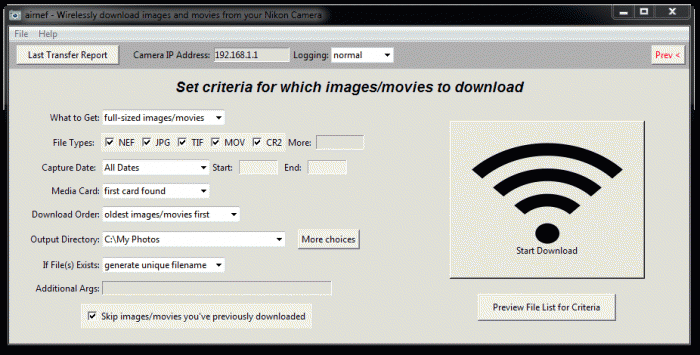 Se avete riscontrato qualche problema non esitate a scrivere sul nostro Forum, e faremo il possibile per aiutarvi il più tempestivamente possibile. Questo è tutto! Spero di esservi stato d'aiuto, seguiteci sui social per ricevere novità o magari qualche altra guida, saluti lo staff
Sono presenti link non funzionanti nell'articolo? Segnalalo tramite commento, grazie della collaborazione