Salve community, oggi vi spiegherò come passare alla modalità Desktop automaticamente all'avvio del nuovo Windows 8.1. La modalità Desktop in Windows 8.1 permette di accedere direttamente ai vostri programmi, al vostro desktop, al tasto Start il quale ricordo è stato reintrodotto.
Requisiti: Successivamente al primo avvio, non dovete fare altro che eseguire i primi aggiornamenti rilasciati da Microsoft per Windows Blue.
Procedimento:
 Posizioniamoci col mouse nella barra degli strumenti e attraverso il tasto destro clicchiamo su Proprietà;
Spostarsi all'interno della scheda Navigazione e spuntare la voce "Go to the desktop instead of start when I sign in";
Confermiamo e diamo Applica e riavviamo il sistema.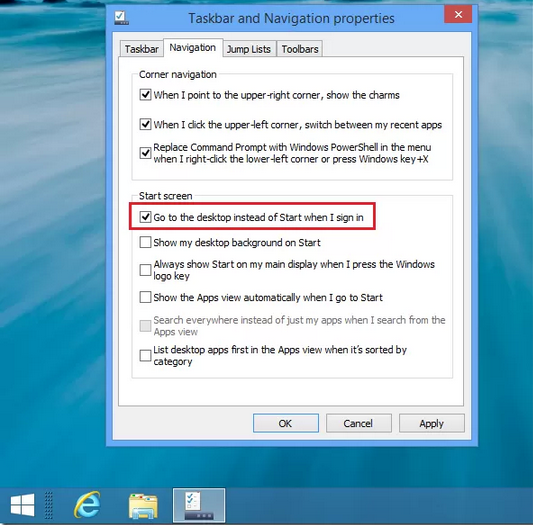 Ecco fatto! Al riavvio il sistema dovrebbe avviarsi tranquillamente in Modalità Desktop Windows 8.1. Saluti lo staff
Sono presenti link non funzionanti nell'articolo? Segnalalo tramite commento, grazie della collaborazione