Salve community, oggi vi spiego come recuperare dei file cancellati per errore su HD oppure SD. Andremmo ad utilizzare Photorec, scaricabile da QUI. PhotoRec e' un software per il recupero di files disegnato per ripristinare files perduti in diversi formati, come video, documenti, foto e archivi.Importante: Non salvare assolutamente i dati recuperati sulla stessa partizione (hdd o usb-disk o altro) scansionata da PhotoRec o si andranno a sovrascrivere gli stessi files che abbiamo perduto.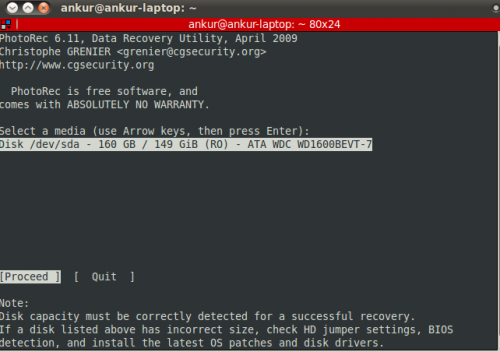 Procedimento:
– Se utilizzate Windows installate il programmino tramite file .exe.
– Per gli utenti Linux aprite il terminale tramite CRTL + ALT + T e digitate:
sudo apt-get install testdisk
– Teniamo aperto il terminale e creiamo una directory di salvataggio dati:
mkdir ~/backup
Faremo una prova con una pen-drive, cosi' possiamo tenere la directory di backup sul disco interno, nella nostra home.
– Selezioniamo il dispositivo. Nell'esempio si tratta di FAT16
Please select the partition table type, press Enter when done.

[Intel ] Intel/PC partition
[Mac ] Apple partition map
[None ] Non partioned media
[Sun ] Sun Solaris partition
[XBox ] XBox partition
[Return ] Return to disk selection
– Selezioniamo Intel/PC (Come ben leggete è possibile recuperare anche da Xbox).
Ora possiamo scansionare l'intera partizione oppure eventuali partizioni estese.
Al termine troveremo nella, directory fornita, tutto quello che e' stato recuperato diviso in sub-directory rinominate e con numero sequenziale.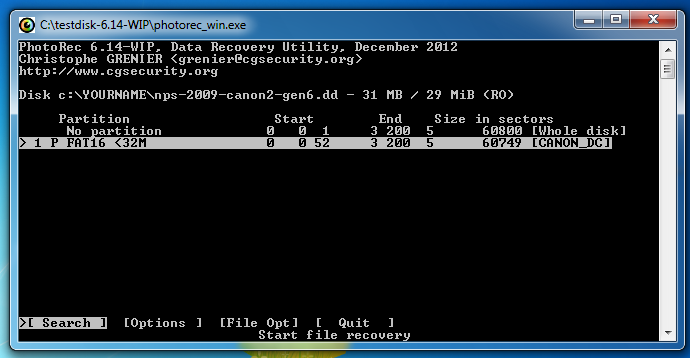 – Photorec supporta File System:
* FAT,
* NTFS,
* EXT2/EXT3 filesystem
* HFS+
** ReiserFS – sperimentale
– Media supportati:
HardDisks, Cdrom, Compact Flash, Memory Stick, SecureDigital, SmartMedia, Microdrive, MMC, USB Memory Drives
Semplice no? Saluti lo staff
Sono presenti link non funzionanti nell'articolo? Segnalalo tramite commento, grazie della collaborazione